Easy Chicken Lettuce Wraps
Chicken lettuce wraps always sound tasty but they're kind of a pain in the ass to make. Right? Wrong. Big emphasis on gourmet the lazy way with this recipe. A little presentation goes a long ways. Just look at the picture. It looks great and you can serve it a party for friends or make it for yourself and post it to Instagram. Either way, it looks fancier than it really is. Don't let me downplaying the complexity of the dish mask how good it is. Trust me, it's bomb.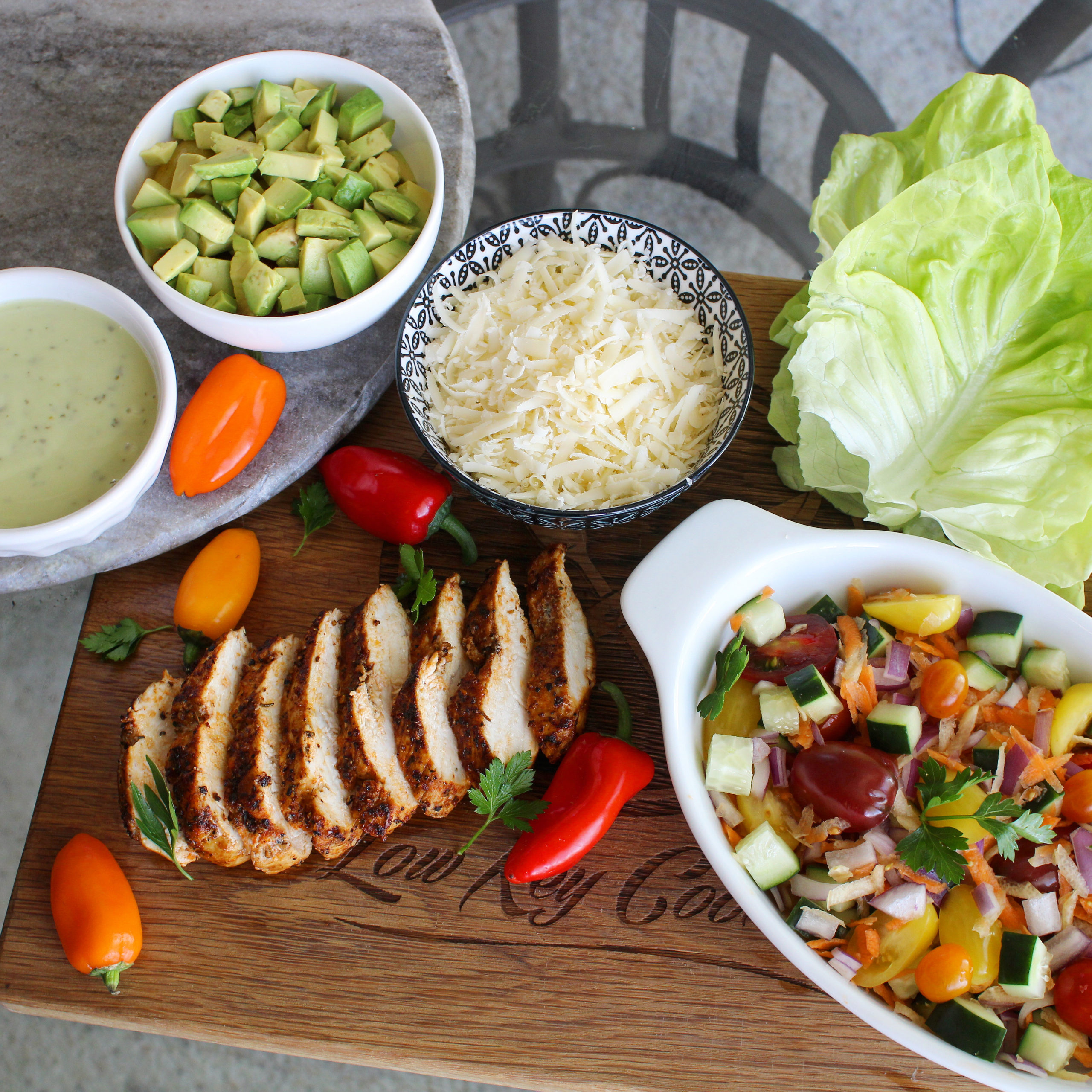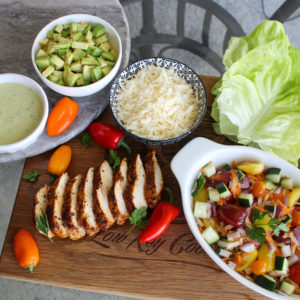 Asiago Grilled Chicken Lettuce Wraps
Easy chicken lettuce wraps loaded with a vegetable medley and served with a creamy cilantro lime dressing.
Ingredients
Chicken
2

Chicken Breasts

1

tbsp

Salt, Pepper, Garlic Powder, Onion Powder, Oregano, Cayenne

(each)

2

tbsp

Olive Oil
Filling
1

cup

Mixed Tomatoes

(halved or diced)

½

cup

Cucumber

(cubed)

⅓

cup

Red Onion

(Diced)

⅓

cup

Shredded Carrots
Everything Else
2

Avocados

(cubed)

½

cup

Briannas Creamy Cilantro Lime Dressing

8

leaves

Butter Lettuce

1

cup

Shredded Asiago Cheese
Instructions
Preheat the oven to 400°. Season the chicken and brown on both sides in a skillet over medium heat (2-3 minutes on each side). Once the chicken is golden brown on both sides, place skillet into the oven for 8-10 minutes or until cooked through.

While the chicken is cooking, prep the filling and combine in a large mixing bowl. Set aside.

Once the chicken is cooked through, remove from the oven and let it rest for 3-5 minutes. Slice into strips.

Set up your station with the butter lettuce, chicken, filling, avocado, cheese and dressing. Assemble one by one and enjoy!
Asiago Chicken 
When I hear Asiago chicken, I think sandwich. Yes, I've eaten at Wendy's. I'm not proud of it. Please don't hold that against me. Asiago cheese is pretty distinctive. It's one of those flavors that can pretty easily take over a dish, but when used correctly… So. Freaking. Good.
Are They Healthy?
Put simply? Yes, they are pretty healthy. I don't include actual calorie counts and detailed nutritional information because I'm a simple home chef. But, just look at the ingredients. Grilled chicken and butter lettuce? Healthy. Mixed veggie filling with diced avocados on the side? Healthy. Briannas Creamy Cilantro Lime Dressing drizzled over everything? Healthy.
Pretty clear consensus here — These Asiago Chicken Lettuce Wraps are easy, healthy and delicious!
Cheers!