I know how busy life gets, and I know you don't have time to waste during the week while you're making dinner. I have found myself looking for easier dishes that have less work and less cleanup. Insert my one-pan ground turkey fajita bake. This dish is so damn easy that I didn't even care it took 40 minutes instead of my usual 30. You just keep adding ingredients to the same dish and mix things up for a while until boom, you have a delicious dinner perfect for the whole family. Or, if you're like me, perfect to keep for leftovers for the entire week.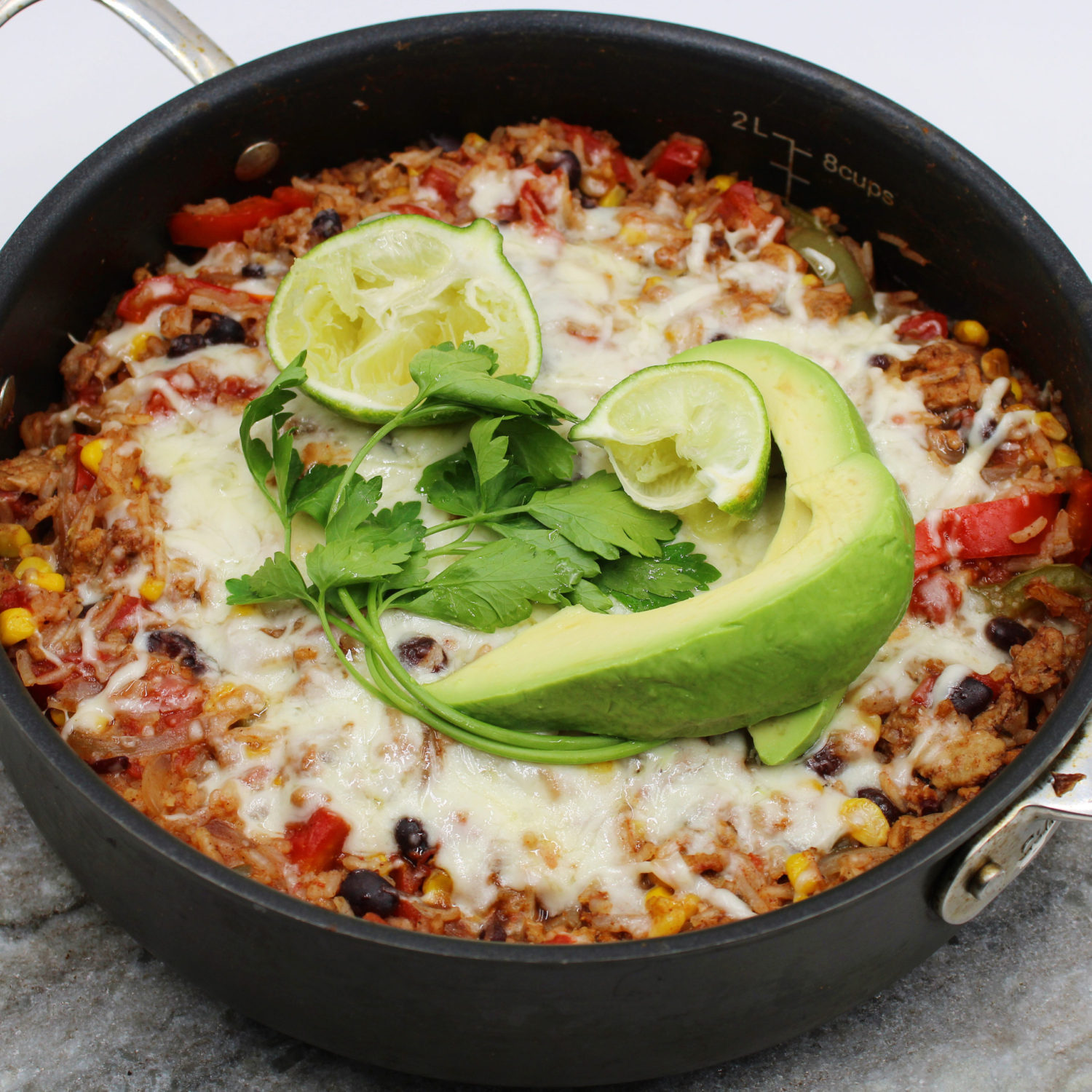 One-Pan Ground Turkey Fajita Bake
An easy one-pan fajita dish loaded with rice and veggies - perfect for a weeknight dinner!
Ingredients
16

oz

Lean Ground Turkey

1

cup

White Jasmin Rice

(uncooked)

8

oz

Whole Kernel Canned Corn

8

oz

Canned Black Beans

½

Jalapeno

(minced)

1

Red Bell Pepper

(sliced)

1

Green Bell Pepper

(sliced)

1

Lime

(sliced & juiced)

28

oz

Canned Diced Tomatoes

½

White Onion

(sliced)

1

tbsp

Salt & Pepper

1

tbsp

Chipotle Powder, Paprika, Cayenne

(each)

1

tsp

Cumin & Oregano

(each)

1

tbsp

EVOO

1

large

Avocado

(sliced)

½

cup

Jack Cheese

(shredded)

¼

cup

Chopped Cilantro

(optional garnish)

½

cup

Sour Cream
Instructions
Preheat the oven to 400°. Add onion to a medium-large skillet with evoo and sautee for 2 minutes until it starts to soften. Add bell peppers and jalapeno and sautee for an additional 2 minutes.

Move the peppers and onions to one side of the pan, add ground turkey to the other half. Season with chiptole powder, paprika, cayenne, cumin and oregano. Cook for 3-4 minutes or until the ground turkey is mostly cooked through.

Add uncooked rice to the pan followed immediately by the canned tomatoes (including all the juice). Add corn and black beans. Stir everything together and cook until it starts to boil (should only take a couple minutes). Reduce heat to a simmer and cover for 10-12 minutes or until the rice has absorbed the tomato juice and cooked through. Squeeze juice from 1/2 lime in and mix.

Cover with jack cheese and book for 8-10 minutes. Top with avocado and squeeze remaining lime juice over everything. Serve immediately with sour cream.
Notes
Optional: Serve with tortilla chips or warm tortillas
The Best Ground Turkey Meal Prep
Back to that whole life being busy thing. I'm usually not a huge meal prep person but this one is too easy not to use again. People love ground turkey because it's cheap, healthy and easy to cook. The only problem with that, it dries out really easily. The best part of this dish is the juice from the tomatoes soaks up into the rice and the ground turkey so it stays moist and delicious for days.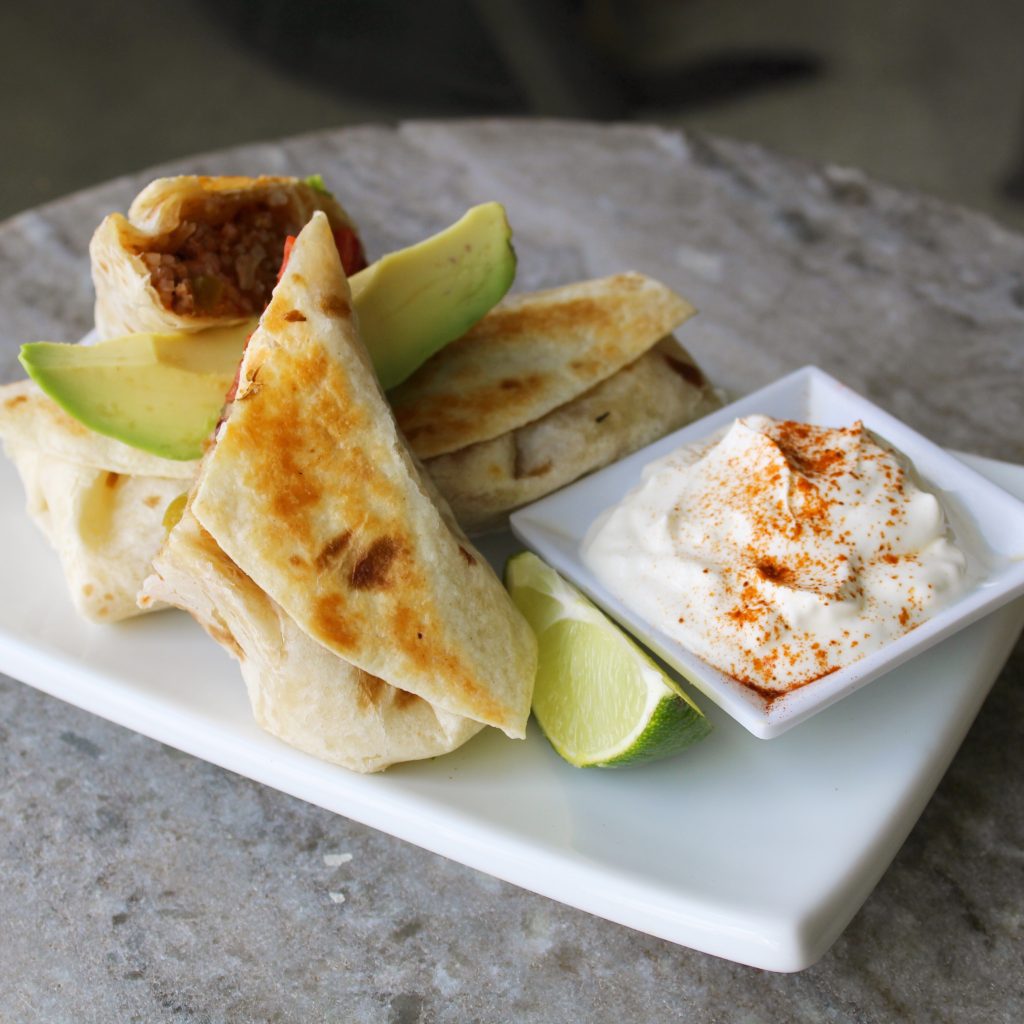 One-Pan Fajitas 
I love fajitas. You love fajitas. Everyone loves fajitas. It's going to be a while before you're sitting in a restaurant when you hear a sizzling skillet behind you loaded with fajitas. So, I'm bringing you the next best thing. Easy one-pan fajitas to make at home. You can clean up in minutes and feed an entire army with this dish.
Ground Turkey Fajitas = Healthy Fajitas
Chicken fajitas have always been my go-to. But the thing I keep finding is ground turkey can be plain as hell, or awesome when mixed with good sauces and liquids that add tons of flavor. Simply adding canned tomatoes and letting it simmer down is such a good way to add that flavor you're looking for. You can do the same with everything from pineapple to corn. You can trust that I'll keep experimenting, and that I'll share the best recipes I have with you.
Cheers!