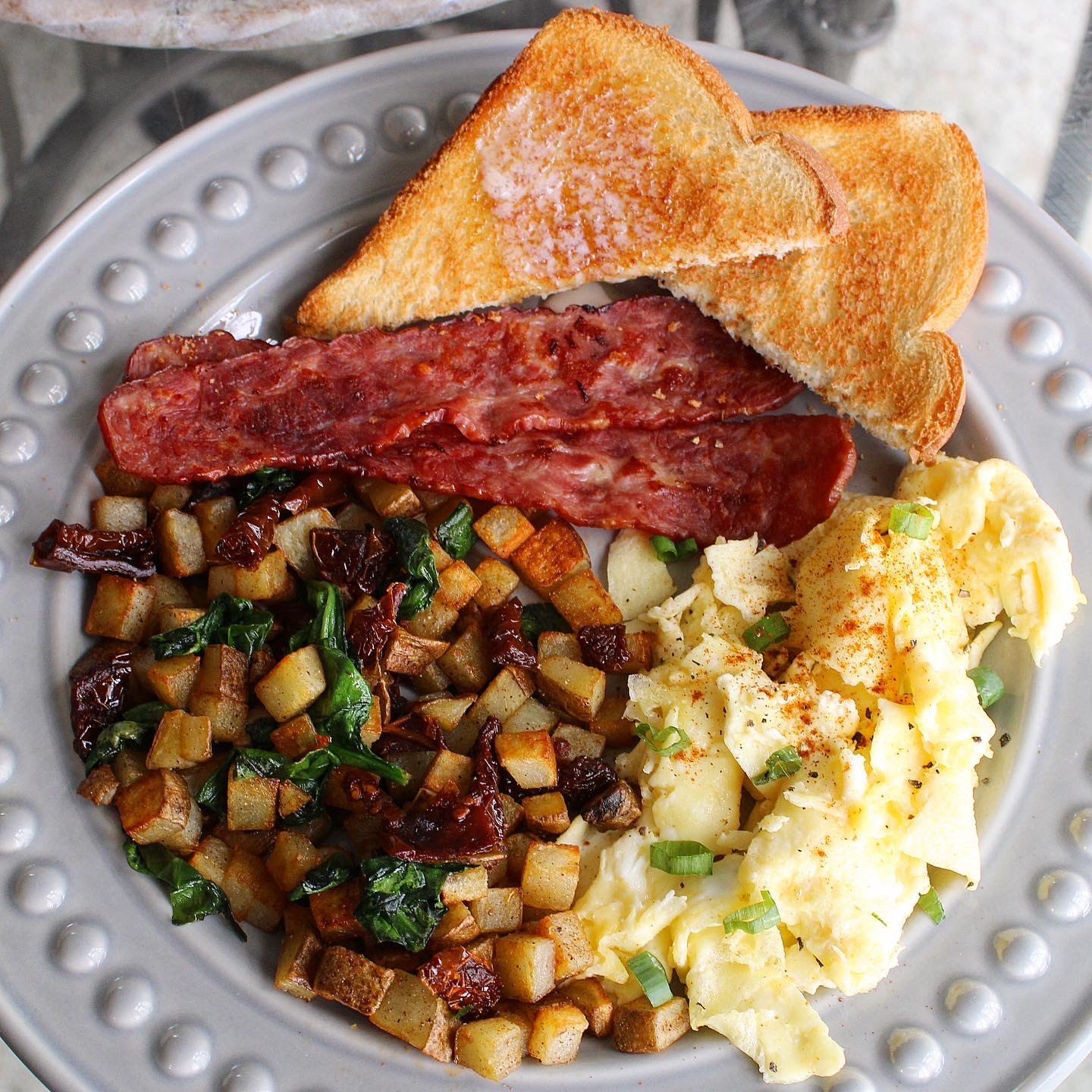 Perfecting the Classic
Breakfast is my favorite meal of the day. To be perfectly honest I couldn't tell you why. But as I've become a better cook, I've learned how to make the most out of the ingredients I have on hand. Funny thing about breakfast is all you really need for a kick ass breakfast are a few eggs and some vegetables. Oh, and of course the most crucial of all, cheese. Specifically Gruyere when making eggs. It's the easiest addition that can take your scramble, omelette, fried, or any other kind of eggs inherently delicious. Seeing how I love simplicity, it makes sense that my favorite diner meal has always been the classic american breakfast. Most important part of that? The potatoes of course.
Loaded Breakfast Potatoes
Let's talk potatoes. I live in North Park, San Diego. If there's one thing this town knows, it's brunch. One of the first brunch spots I went to when I moved here was Breakfast Republic. They have regular potatoes served with 90% of their dishes, and you can upgrade to their loaded potatoes for a few bucks more. Those potatoes have fried brussels sprouts and bacon and they're topped with parmesan cheese. Now, mine don't have bacon which is a tough obstacle to overcome. But, I've been tinkering and experimenting trying to make my own version and I've finally done it.
This quarantine has reeaallyy taught me to make the most out of my ingredients on hand. I had some sun-dried tomatoes and I've used them in a few different dishes recently. I had a few left and decided to try them out with some potatoes and holy sh*t were they good. Mixed in with some spinach and crisped up in the skillet with small chopped russet potatoes. Trust me when I tell you these potatoes will blow your mind.
Light and Fluffy Scrambled Eggs
I've been making eggs at least a few times a week for a couple years now and I feel pretty confident in saying I have this sh*t down. There are plenty of ways to scramble eggs, the easiest is what I'll show you here. It's super simple, super quick and they are so light and fluffy.
All in all. This Low Key Classic American Breakfast is a combination of my favorite breakfast foods cooked in my favorite ways. I have no doubt you'll enjoy it just as much as I do.
Cheers!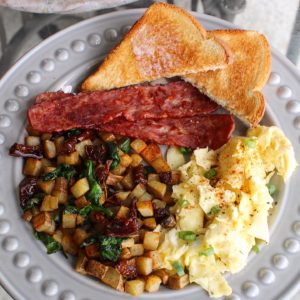 Low Key Classic American Breakfast
A classic American breakfast with scrambled eggs, loaded breakfast potatoes, thick-cut turkey bacon and toasted sourdough.
Ingredients
2

Slices

Sourdough

4

Large

Eggs

1

Large

Russet Potato

(diced into small cubes)

4

Slices

Applegate Turkey Bacon

15

Sun-dried Tomatoes

(sliced into strips)

1

Cup

Spinach

2

tbsp

Unsalted Butter

1

Green Onion

(for garnish)

2

Pinches

Salt & Pepper

1

Pinch

Paprika

(for garnish)

1

tsp

Olive Oil

Cooking Spray

(or 1 more tbsp butter)
Instructions
Rinse and dice the potato into small cubes. Add olive oil and 1 tbsp butter to a skillet over medium heat. Toss the potatoes every minute or two to make sure they cook evenly.

While the potatoes start to cook, add the turkey bacon to another skillet over medium-low heat. The turkey bacon should take about 10 minutes to cook. Flip after 5.

While the potatoes and bacon are cooking, mix 4 eggs in a bowl and whisk thoroughly. Spray another skillet with cooking spray (or add the tbsp of butter) to a skillet on medium-low heat. Let the eggs cook for about a minute or two until they start to form, then start folding the eggs over mixing together gently continuously. It should only take about 4-5 minutes to cook until light and fluffy. Once they're almost done, sprinkle with salt and pepper.

Once the potatoes are a minute or two from being nice and golden brown, add sliced sun-dried tomatoes and spinach to the skillet with the potatoes. Cook for another 2 minutes until the spinach starts to wilt and everything is cooked through. Season with salt and pepper.

When everything is just about done, toast the sourdough. Everything should finish cooking at the same time (ish). Plate everything immediately. Garnish with green onion, paprika, and salt/pepper to taste.