Welcome back! It's been a while since I posted but I'm back and here to stay!
With that out of the way, let's get to the good stuff… these delicious Sriracha honey glazed pork chops. I love simplicity when putting a dish together for many reasons. First- it's the entire point of an easy Low Key Cooking dish and second, it's cheap and easy for you all to make at home.
Pork chops can be intimidating. People who haven't really made them before are typically unsure how long to cook them, what to season them with, or whether they should go stove top/grill/oven. Insert Low Key Cooking's easy and tasty recipe for you. The main component here is to use a smaller cut pork chop. This recipe doesn't use the oven or the grill, so using these thinner cuts allow the pork to fully cook through on the stove top. I take the uncertainty and stress away and promise you'll love these pork chops so much they'll become a regular staple on your dinner table.
Let's talk ingredients. One of the easiest sauce/marinade combo's is sweet and spicy. Why? It brings a natural balance to the palate. I love these sauces for my recipe's because it leaves the recipe open for interpretation, you can add a little extra heat or take some out. You can add extra garlic. Whatever your heart desires, it's up to you. Enter Honey, Sriracha and Soy sauce. You can add just about anything to these guys and you'll have a tasty sauce covering your dish.
As for the sides I decided to keep it simple for three reasons:
Brown rice and sweet peppers keep it healthy
They look great as a natural garnish
It let's the pork chop shine as the star of the dish
You're ready to start cooking! Just remember to keep it simple and just like I promised, these Sriracha Honey Glazed Pork Chops will be a new staple on your dinner table!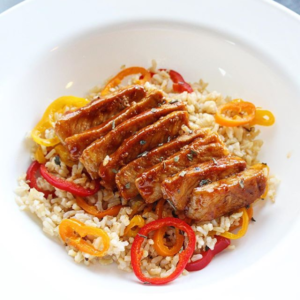 Sweet Sriracha Honey Glazed Pork Chops
2019-09-12 21:21:50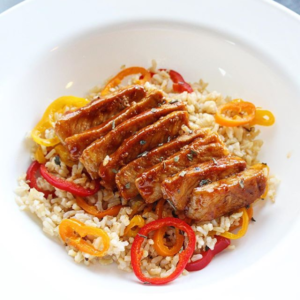 Serves 2
For the Sauce
1/2 Cup Honey
2 Table Spoons Sriracha
1 Teaspoon Soy Sauce
1 Garlic Clove (Minced)
1 Pinch Salt & Pepper
For the Pork Chops
1 Tbsp Extra Virgin Olive Oil
2 Pork Chops
2 Pinches Salt and Pepper
1 1/2 Cup Brown Minute Rice (cooked)
1 Cup Sliced Mini Sweet Peppers
Instructions
Start the minute rice according to box instructions. You'll need 1 1/2 cups of cooked brown rice.
In a medium size bowl, whisk together honey, Sriracha, soy sauce, garlic and salt/pepper-- set aside.
Pat both sides of the pork chops dry with a paper towel. Season each side with a pinch of salt and pepper.
Add a Tbsp of EVOO to a saute pan over medium heat. Once the pan is warm, add both pork chops to the pan. Cook on the first side for 4-5 minutes or until it starts to brown up.
While the pork chops are cooking, slice the sweet peppers into rings.
After the first side of the pork chops have cooked, add the sweet peppers and pour the sauce over the pork chops and flip them over. Cook for an additional 4-5 minutes or until both sides are just browned and cooked through.
For the plating
Add half of the rice to each bowl. Slice the pork chops and serve over rice.
Low Key Cooking https://cookinglowkey.com/