Mediterranean Chicken Bowls from Heaven
Okay, maybe they aren't directly from heaven… But they're damn good. This Mediterranean chicken bowl is simple, easy and delicious. I kept it pretty simple while making sure it had the essentials of a classic Mediterranean dish (aka kalamata olives, tomatoes, red onion, feta, etc.). I seasoned and toasted some pita bread to serve as a side and although it wasn't the healthiest decision, my god was it good. If you're reading this and thinking about making these chicken bowls sometime soon, treat yourself and get that good pita bread.
I have made a few different Mediterranean dishes in the past and every one of them have been good. My personal favorite are these Couscous Stuffed Zucchini Boats. I decided to try something that combined the filling of that dish with the amazing chicken I've been making– see this grilled chicken recipe (it'll change your life). What I got was a perfect combination of health, protein, vegetables and flavor.
Rice? Pasta? Orzo.
Orzo. Man, learning how to cook orzo has completely changed the game for me. Hell, just learning what orzo even was was a game changer. It's not really rice, and it's not really pasta. It's somewhere in between (Technically yes, it's pasta. But who's counting). Personally, I like it better than both traditional pasta and rice. It's really versatile and it's so easy to get great flavor out of it. I love toasting the orzo on the stove top with a little olive oil before adding water or stock. It creates this awesome kind of fresh smoky flavor that is oh so good. Plus, you can do it all in one pot. Toast the orzo and once it's just right, add in that stock until the orzo is fully cooked. You can just throw some veggies, proteins, sauces, spices, you name it right in that pan. Or, you can do what I've done here and use it as a base for a bigger dish.
Like I said, these Mediterranean Chicken Bowls are damn good and I have no doubt you'll be making these on the regular.
Cheers!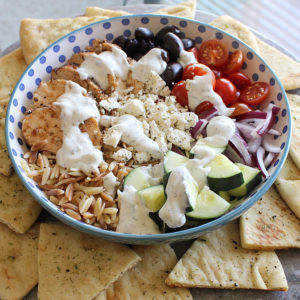 Mediterranean Chicken Bowls with Toasted Orzo
Fresh chicken bowl loaded with veggies, feta and toasted pita bread.
Ingredients
1

Large

Chicken Breast

1

Cup

Orzo

1

Cucumber

(diced)

½

Red Onion

(diced)

½

Cup

Cherry Tomatoes

(halved)

½

Cup

Kalamata Olives

¼

Cup

Feta Cheese

(crumbles)

¼

Cup

Tzatziki Sauce/Dip

2

Slices

Pita Bread

(cut into slices)

2

tbsp

Salt & Pepper

(each)

2

tsp

Garlic Powder & Onion Powder

2

tsp

Paprika

3

tbsp

Olive Oil

1

tbsp

Italian Seasoning

(for the pita bread)
Instructions
Cooking
Combine spices (except Italian seasoning) and season raw chicken breasts. Add 1 tbsp olive oil to an oven safe skillet on medium heat. Cook chicken on both sides until golden on both sides then finish in the oven 7-10 minutes or until cooked through.

While the chicken is cooking, add 1 tbsp olive oil to another skillet on medium heat and add the orzo. Toast for 2-3 minutes until the orzo starts to brown. Add ½ cup boiling water to the skillet with a pinch of salt and let it simmer (stirring occasionally) for 8-10 minutes until al dente.

While the chicken and orzo are cooking, rub 1 tbsp olive oil on the pita bread and season with italian seasoning. Pop the pita bread into the oven for about 5 minutes or until it's warm and toasty.

While everything is finishing cooking, dice your veggies and set aside.
Plating
To plate, start with orzo, then layer everything on top in sections over the top (see picture). Top with feta and tzatziki and serve immediately.