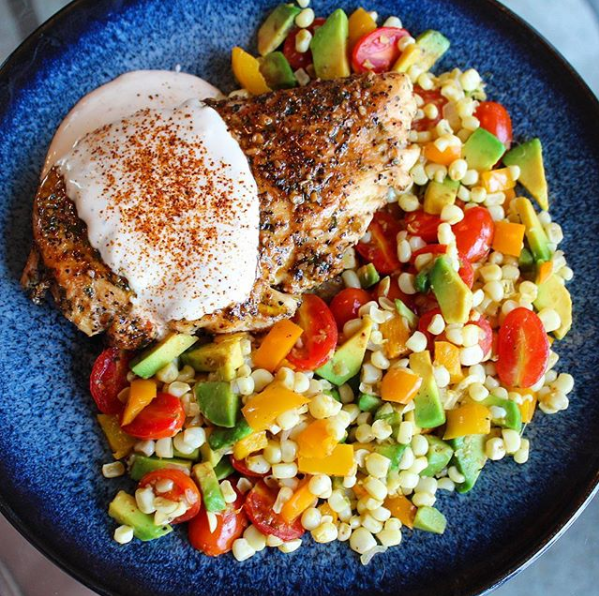 I'll start by saying this recipe is one of my all time favorites. I first made a version of this dish a couple years ago and it's become a staple in my weeknight dinner rotation. It started when I first learned how to really cook a tender and flavorful chicken breast. Once I had that mastered, I started experimenting with anything and everything. What goes well with grilled chicken? LITERALLY ANYTHING YOU WANT. Vegetables, sauces, rice bowls, you name it… and perfectly grilled chicken breast will make it good. Fast forward a few years and throw in some actual cooking experience and you have this– my grilled chicken topped with a lemon pepper aioli and the best summer succotash you will ever try.
Avocado Succotash
The stuff dreams are made of. I was just talking about how life changing learning how to cook a good grilled chicken breast right? Well, this avocado succotash recipe stands on it's own as one of my favorite sides of all time. The whole idea behind a succotash is that it's light, fresh and healthy. Basically everything I'm shooting for when creating a new dish. A succotash can really be any combination of bright colorful vegetables. But being a San Diegan– I had to add some fresh avocado to my corn and bell peppers to really elevate the dish. (Spoiler alert, the avocados are incredible in this dish. They add a subtle sweetness and texture diversity to the dish).
Lemon Pepper Aioli
This is where I deviate slightly from the pure health aspect of the dish. Aioli is just a fancy word for mayo sauce. Now I know a lot of people don't like mayo, and a lot of people want to keep the dish as healthy as possible to follow whatever diet they're on. I also know that most people love a little something extra, so this gives you the choice to either add in the aioli or leave it out. Trust me when I say, it's delicious either way. To advocate in favor of you including the sauce, it's bomb. That's really all you need to know.
Happy cooking and happy eating!
Cheers!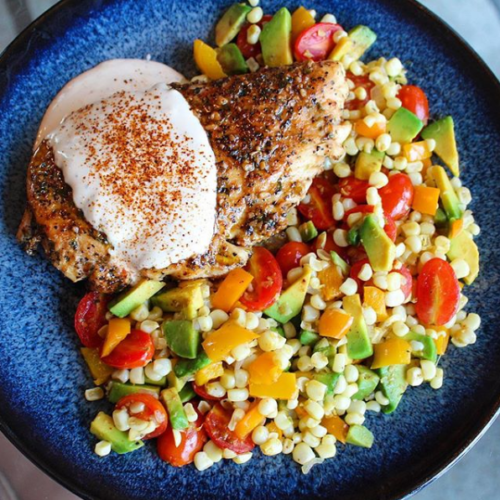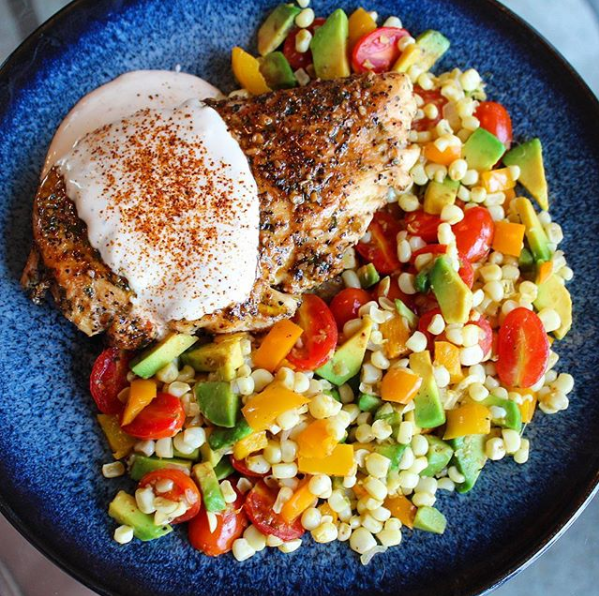 Grilled Chicken with Avocado Succotash and A Lemon Pepper Aioli
A light and refreshing twist on classic grilled chicken paired with a life changing avocado succotash.
Ingredients
Chicken
2

raw

Chicken Breasts

1

tsp

Garlic Powder

1

tsp

Onion Powder

1

tbsp

Oregano or Italian Seasoning

1

tsp

Cayenne Pepper

1

tsp

Salt

1

tsp

Pepper

2

tsp

Olive Oil
Avocado Succotash
1

stalk

Fresh Corn

(Canned Corn works fine)

5

oz

Cherry Tomatoes

Halved

1/2

Hass Avocado

Diced

1

Orange Bell Pepper

Diced

1

Shallot

Diced

1

clove

Garlic

Minced

1

pinch

Salt

1

pinch

Pepper

1

Lemon

Juiced

1

tbsp

Olive Oil
Lemon Pepper Aioli
3/4

cup

Mayo

1

Lemon

Juiced

1

clove

Garlic

Minced

1/2

tsp

Salt

1

tsp

Pepper

1/2

tsp

Cayenne
Instructions
Preheat oven to 385 degrees. Place an oven-safe skillet on a stove top burner and turn heat up to medium-high.

While the pan and oven heat up-- Add and mix all of your spices for the chicken in a small bowl. Rub 1-tsp olive oil on all sides of both chicken breasts then rub your spice mix on all sides of the chicken until covered.

Add 1 tsp olive oil to the now hot skillet and add both chicken breasts. Cook until both sides are browned to your liking (note, the chicken won't be cooked all the way through, it'll finish cooking in the oven.

While the chicken cooks, mince and dice all veggies (and juice the lemon) for the succotash and set aside.

Once the outside of the chicken is browned, move the skillet to the oven and cook for 10 minutes at 385 degrees.

As the chicken cooks, bring another large skillet to medium-high heat and add 1 tbsp olive oil. Add shallot, corn and bell pepper and saute for 2-3 minutes. Add in tomatoes and avocado and cook for an additional 3-5 minutes or until veggies have softened. Season with salt and pepper than add lemon juice. Cook for an additional minute stirring constantly then remove from heat.

Your chicken and succotash should be done. Set them aside to cool. In a regular bowl-- mix mayo, lemon juice, garlic, salt, pepper, and cayenne until everything is mixed and consistent.

Plate the chicken over the succotash and drizzle aioli over top of the chicken.