Not Your Average Breakfast Toast
Easy and gourmet. The perfect change up to your boring old mashed avocado and crushed chili flake on multigrain bread. Good presentation can be the difference from impressing your friends/family with breakfast and meh. Personally I love the "oh wow" look on someone's face when you present them with a beautiful plate of food. Now don't get me wrong, presentation is import, but this dish is loaded with bacon, eggs and veggies and stands up against any fancy brunch you'd have to wait in line for.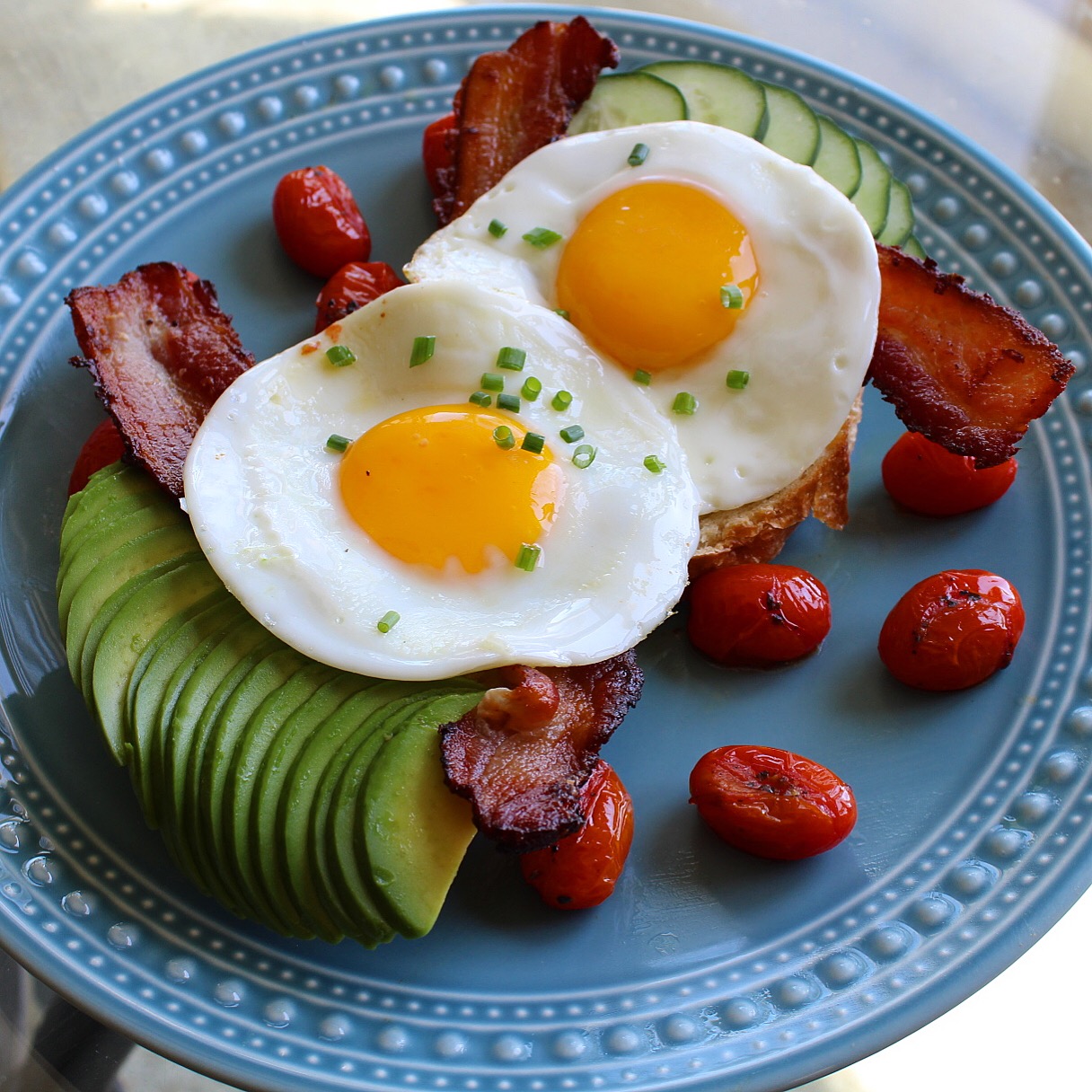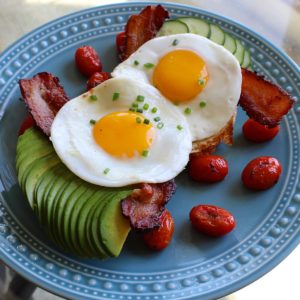 Bacon, Egg and Avocado Toast
Simple breakfast toast loaded with protein including bacon, avocado, roasted tomatoes and eggs.
Ingredients
2

Slices

Thick-cut Sourdough

4

Slices

Bacon

1

Avocado

(sliced thin)

10-20

Cherry Tomatoes

4

Eggs

½

Cucumber

(sliced)

Pinch

Salt & Pepper

Bunch

Chives

(Optional for garnish)
Instructions
Start with the bacon strips on a skillet over medium heat. Cook for ~5 minutes on each side or until perfectly crispy.

While the bacon starts to cook, toss the tomatoes in to another skillet over medium to medium-low heat. after a couple minutes push the tomatoes to the side of the skillet and add the eggs in and cook to over easy.

While everything finishes cooking, slice the avocado, the cucumber and the chives. Toast the sourdough. Serve everything immediately with everything stacked up and the tomatoes on the side
Did You Say Cucumbers?
Yes. Cucumbers. Balance is important. In case you couldn't tell by the picture, this toast is loaded with savory protein. From half an avocado to thick-cut back and thick-cut sourdough toast there is no shortage of savory here. The cucumber adds an awesome refreshing crunch to the dish that balances out the heaviness of everything else. Not to mention it's a great way to sneak some additional color onto that plate.
Cooking A Perfect Over-Easy Egg
Getting those eggs to cook just right can be a real pain in the ass amirite? The secret is in the tools. You can buy a cheap single-egg pan off Amazon for a few bucks or snag a metal ring from Amazon or somewhere like World Market or Home Goods. I know the last thing you want to do is buy yet another kitchen accessory but trust me, it's worth it to get those eggs perfectly cooked and shaped.
Perfectly Sliced Avocados
If you've seen any other post of mine, you know how much I love my avocados. It's kind of impossible not to when you live in San Diego but that's neither here nor there. Getting that perfect slice is actually way easier than it looks and it takes just a few easy steps:
1. Cut the avo in half and remove the pit.
2. Peel the shell.
3. Cut thin strips (long-ways)
That is quite literally all it takes. From there it's just spreading it out evenly over your toast. I hope you enjoy this breakfast as much as I do and that it makes your company say "wow!"
Cheers!