The Best Lemon Cream Sauce Recipe
This sauce is going to change your life. That is not an over-exaggeration, seriously this easy homemade lemon cream sauce is so quick and so damn good. The secret is cooking the garlic in the lemon juice, then adding the zest to the cream once it starts to bubble. Cooking the garlic in the lemon juice allows the garlic to sauce up all that flavor while the rest either combines with the butter or evaporates. That gives your cream sauce that great citrus flavor without making your sauce runny. Seriously just look, if that picture doesn't make you start to drool, at least a little, you've come to the wrong place.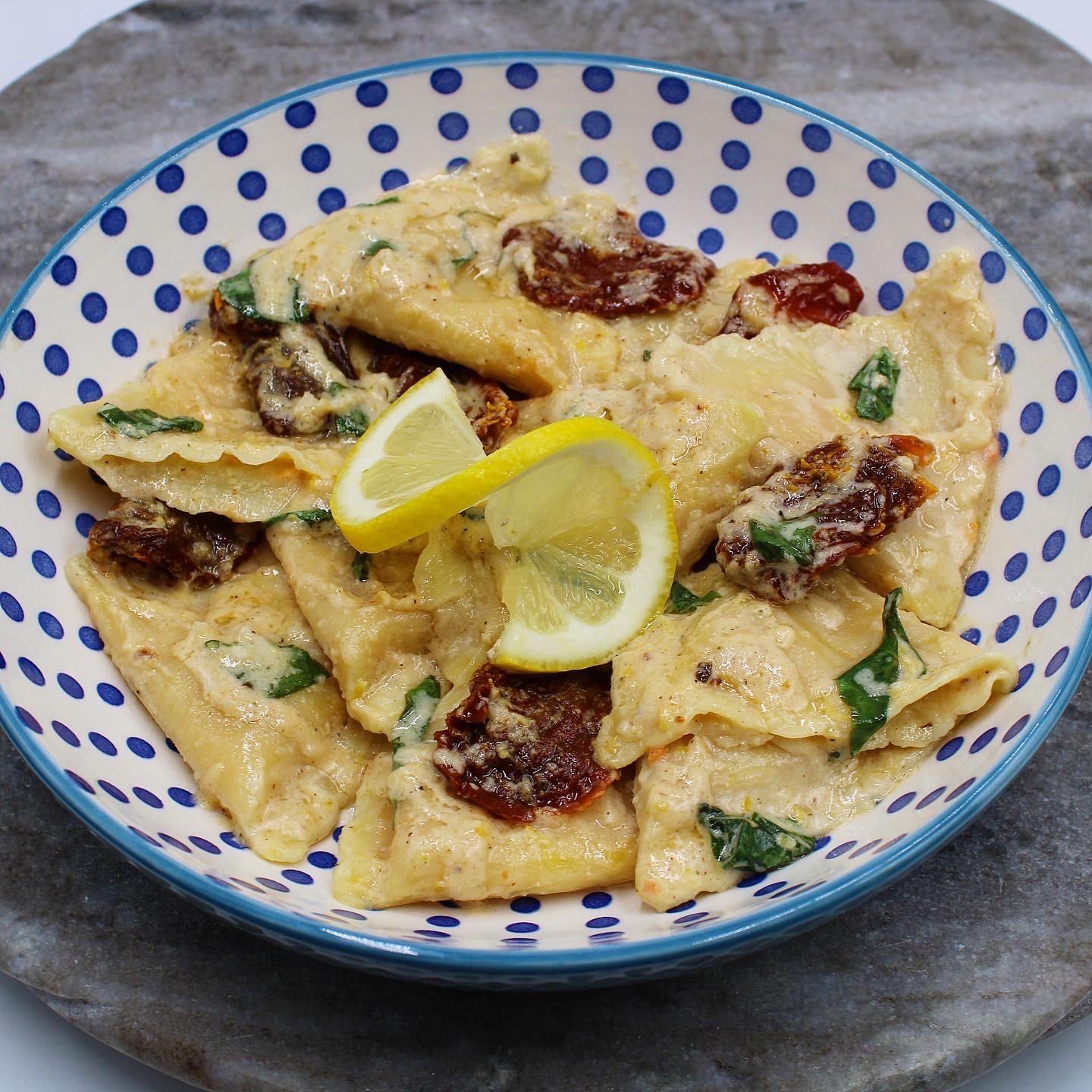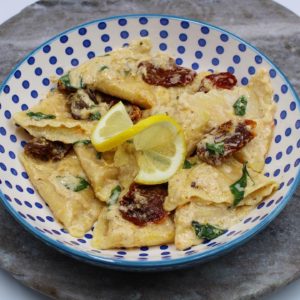 Creamy Citrus Lobster Ravioli
Lobster ravioli cooked in a creamy citrus sauce with basil and sun-dried tomatoes.
Ingredients
1

(9oz)

Package of Lobster Ravioli

(I used Three Bridges)

2

Cups

Heavy Cream

½

Cup

Parmesan

(Shredded)

⅓

Cup

Sun-Dried Tomatoes

(Sliced)

3

tbsp

Fresh Basil

(Sliced)

1

Lemon

(Zested and juiced)

1

tbsp

Honey

(Can also sub agave)

2

Cloves

Garlic

(Minced)

2

tbsp

Butter

(Unsalted)

Pinch

Salt and Pepper

(To taste)
Instructions
Start a pot of boiling water for the pasta. Pre-made lobster ravioli will cook super quick so just get the water started early and season with salt.

On a medium-large skillet, add butter (or sub 2 tbsp evoo) to a skillet over medium heat. Add minced garlic and lemon juice to the pan and cook for 1-2 minutes or until the garlic starts to soften. Add 2 cups of heavy cream to the pan and stir consistently until the sauce just barely starts to bubble (don't worry the sauce will thicken).

Once the sauce starts to bubble, add the sun-dried tomatoes, lemon zest, Parmesan and basil. reduce heat to a simmer and stir occasionally until the sauce starts to thicken (3-5 minutes).

Once you've reduced the heat on the sauce, add ravioli to the boiling water and cook until they rise (should be super quick). Add the cooked ravioli to the sauce pan and mix together. (If the sauce gets a little too thick, add a little pasta water gradually until it's perfect to your preference).

Garnish with lemon wedge, zest and fresh Parmesan. Serve Immediately.
Cooking with Three Bridges Ravioli
Discovering this brand at my local Barons a few months ago was a game changer (and a belly changer as I've indulged a bit too much perhaps). In all seriousness, this Three Bridges Lobster Ravioli is awesome. It's so good and just takes a few minutes to cook. I have also used some of their other products that I'll share with you soon.
Low Key Sun-Dried Tomato Pasta Sauce 
I say low key because it only takes a few minutes to throw together. A lot of recipes out there get crazy with extra ingredients and stir sequences and blah blah blah. Let those sun-dried tomatoes be the star of the show damn it. They pack so much flavor in such a tiny punch that I use them constantly in sauces because it keeps things simple. Mix a few in to any simple cream sauce and not only does elevate the flavor, but it gives your dish a great red texture that shines and will be sure to impress.
I hope you enjoy my creamy citrus lobster ravioli and share it with every pasta lover you know!
Cheers!