Everything You Want in A Breakfast Bagel
That heading pretty much says it all doesn't it? This sandwich is loaded with every guilty pleasure you could ever want in a breakfast sandwich. I feel like I am expertly qualified to make that statement because I consider myself somewhat of a breakfast sandwich connoisseur. This isn't a recent thing, I have been a lifelong lover of all things bagels.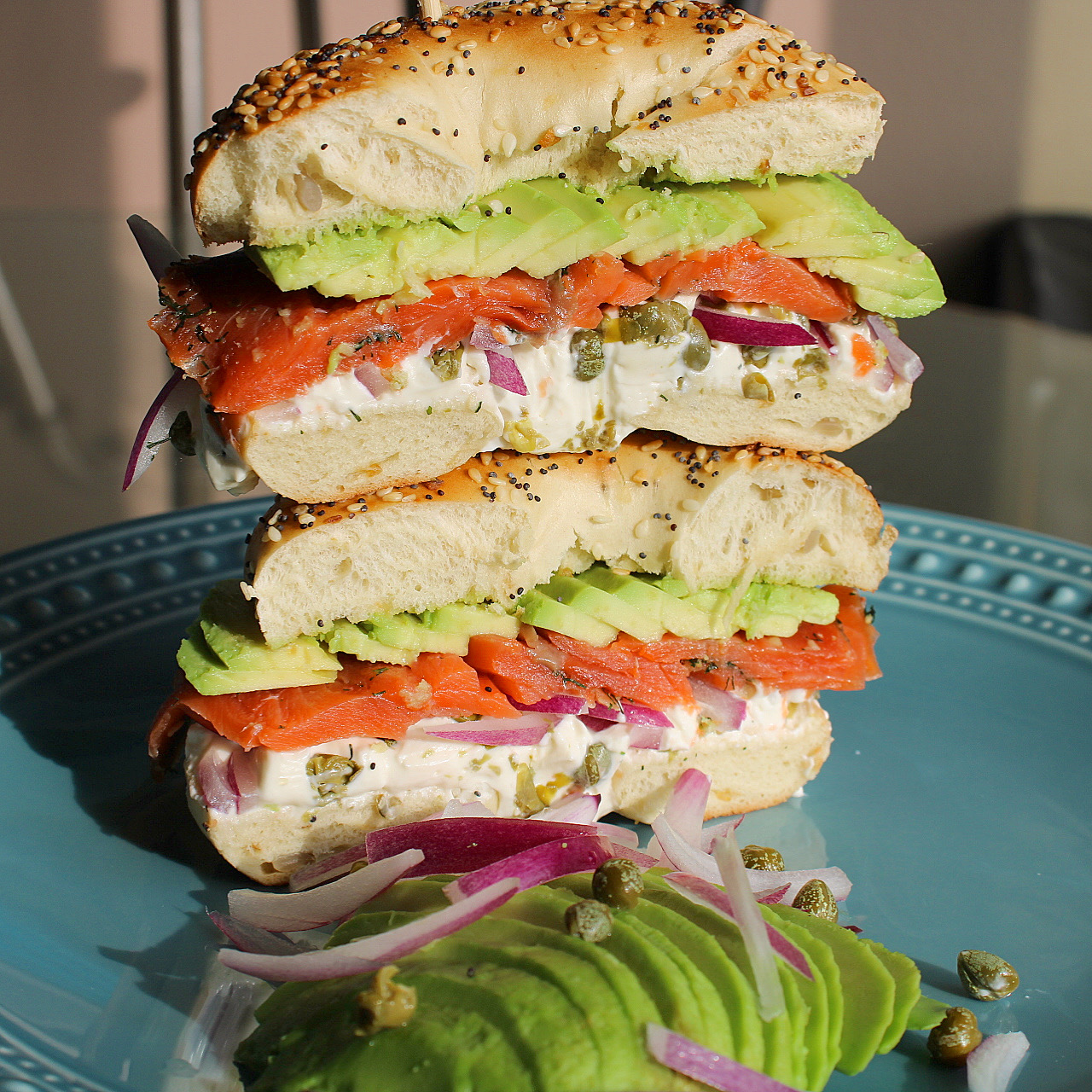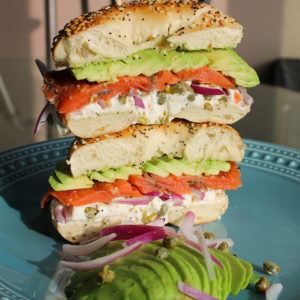 California Lox Bagel Sandwich
A classic lox bagel sandwich loaded with avocados and all the fixings.
Ingredients
1

Everything Bagel

1

Whipped Plain Cream Cheese

(how ever much your heart desires)

2

tbsp

Capers

1

Small Handful Red Onion

(sliced into strips)

½

Haas Avocado

(sliced)

1

Package Nova Lox
Instructions
Slice the red onion, lox and avocado. If you care about presentation, slice the lox and avocado into thin strips and layer on top of each other in opposite directions (see picture).

Toast the bagel and layer ingredients on (Cream cheese, Capers/Onion, Lox, Avocado).

Serve immediately and enjoy!
What You Need for A Lox Bagel Sandwich
You really only need a few core ingredients for a delicious lox bagel sandwich:
An everything or poppy seed bagel
Nova Lox
Red Onion
Capers
Fresh Dill
That's it. You did it. You made a lox bagel at home and it's delicious! Right? Well, technically yes. That sounds pretty damn good to me. But, being the bagel sandwich connoisseur that I am, of course I had to elevate it.
Mo' Cream Cheese Mo' Bettah
Let me tell you, cream cheese makes everything better. I don't care what you're making with your bagel, just add the cream cheese. Is it healthy? No of course not. But if you're already planning on making a bagel sandwich I think we can agree that nutritional value is not at the top of your priority list.
California Avocados
Just like the cream cheese, you can never have too much avocado. If you've seen any of my other recipes, you know that I'm a huge avocado lover. Yes I love the taste because avocados are one of my favorite foods on this earth, but you can slice them up and they look absolutely awesome on any plate. When you add it into a sandwich it's all about layering, and the direction you slice it. I did the same thing with the nova lox in this sandwich and as you can see, it looks great once you slice it open. I hope you enjoy this breakfast sandwich as much as i do!
Cheers!