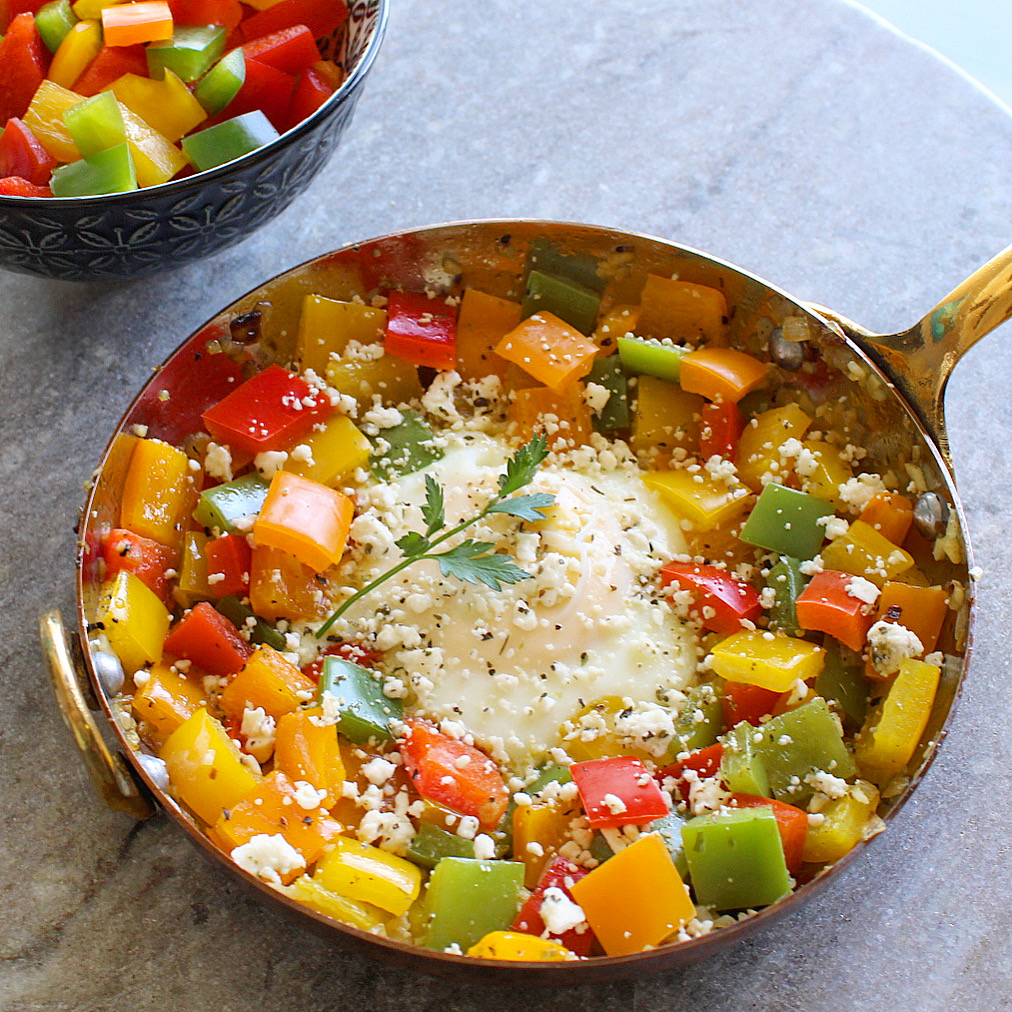 One Pot Breakfast Ideas
I love breakfast more than most people. The mornings are my favorite part of the day when I can relax with some coffee and whip up some food with whatever I have laying around. Part of that relaxation is not having to go to the grocery store. You always need a few essentials on hand like:
Always stock up on eggs, they're so versatile and you can use them for any meal of the day.
Cheese — Need I say more?

I love having parmesan, gruyere and feta on hand. You can buy the blocks and they'll last for a month.

Some kind of veggies — I always have mini sweet bell peppers on hand and usually some onions and tomatoes.
Keeping these kinds of things on hand make breakfast a breeze– AND it gives you tons of options for any meal. Obviously based on these essentials, this is the base I used for this easy bell pepper breakfast skillet.
Bell Pepper Breakfast Recipes
If I had to define this dish in one word, it would be simplicity. Bell peppers, eggs and feta is really all it is. I love using bell peppers in breakfast dishes because it gives you great flavor and a little crunch without really having to do all that much to them. All I did here is dice up a few bell peppers with some olive oil and salt/pepper, throw and egg in and boom. Breakfast.
How Do You Like Your Eggs?
I am personally a big fan of runny eggs. So naturally I usually cook my eggs over-easy to get a nice runny yolk with whatever I'm eating. The egg in this dish is all about timing. No matter how you want it cooked, it goes in last. Once you have the bell peppers 75% cooked, you can dump your egg (carefully) in the center and cook it to your version of perfection. From there you take it straight to the table and serve. Like I said, simplicity.
Cheers!
Bell Pepper Breakfast Skillet
A quick and easy breakfast with bell peppers, a fried egg and feta cheese.
Ingredients
1

Red Bell Pepper

(diced)

1

Green Bell Pepper

(diced)

1

Yellow Bell Pepper

(diced)

1

Orange Bell Pepper

(diced)

2

tbsp

Crumbled Feta

2

Eggs

Pinch

Salt and Pepper

1

tbsp

Olive Oil
Instructions
Dice all 4 peppers and combine in a mixing bowl. Add olive oil to a medium size skillet over medium-low heat. Add peppers to the pan and saute for 2-3 minutes. Note: If you prefer the peppers a little softer, cook an additional 2 minutes.

Move the peppers to the sides of the pan and create a circle in the center of the pan big enough for two eggs (see picture). Crack the eggs in the center of the skillet and cook to desired consistency. Recommended consistency is over-easy so the eggs should only need about 2 minutes before they're ready.

Once the eggs are cooked, remove skillet from heat and sprinkle feta cheese over everything. Serve immediately.
Notes
I made this dish for 1 but the instructions in the recipe is for 2 servings. This dish can easily be scaled up to serve however many people are at your table.