Embrace The Morning
When I say gourmet the lazy way, I sincerely mean it with this open-faced omelette. I've been big on an "embrace the morning" mentality lately and it's been a serious game changer for me. You probably don't care about the running or the reading or anything else I'm "embracing"– but what you should care about is me embracing breakfast. Over the past couple weeks, I've made breakfast 3-4 times a week. When I say I made breakfast, I mean I actually cracked a couple eggs, slicked some veggies and cooked something healthy and delicious. It's amazing how far a dozen eggs and some assorted veggies can take you. My goal is to help you do the same with quick and easy recipes like this open-faced omelette with avocado.
The Laziest Gourmet Open-Faced Omelette
If you follow my Instagram page (@Lowkeycooking) you've probably seen my stories recently that feature the breakfasts I've been making. Like I said earlier, keeping a few simple ingredients on hand can make breakfast a breeze. All I really use for these recipes is a variation of eggs, veggies and some kind of protein– usually turkey bacon or whatever's leftover from dinner. For this open-faced omelette specifically, I made chicken the night before and just diced up some of the leftovers to use as my protein. Chicken in eggs you say? Yes. Chicken.
Eggs have this magical ability to make everything around them better. I throw anything and everything into my eggs and just experiment because in my experience, it usually works out for the best.
What's Inside?
I say inside, but really with an open-faced omelette it's just on top. I had some left over pita bread from a meal over the weekend last week so I toasted that to use as a base. Then I mixed up a couple eggs and poured them into a normal oiled saute pan to create a thin sort of layer for the eggs. I kept the heat on medium-low to make sure nothing over cooked (this is crucial, if the pan is too hot your eggs will over cook within minutes). Then I added some diced cherry tomatoes, red onion, diced chicken and seasoned it with salt, pepper and chipotle powder. Slice a little avocado and boom, done.
If you take anything from this post, ENJOY YOUR MORNINGS. Seriously. It's a game changer. You know what else is a game changer? This kick-ass open-faced omelette with avocado over toasted pita bread.
Cheers!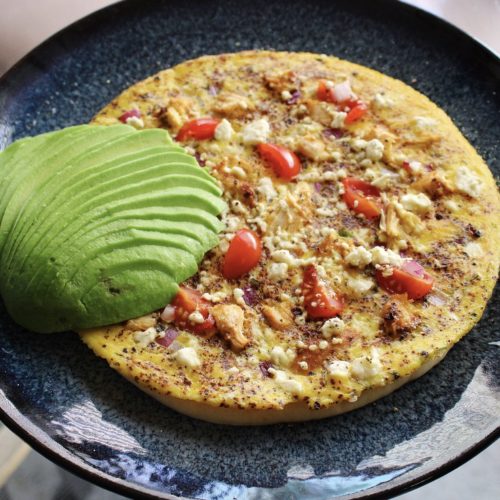 Open-Faced Omelette with Avocado
A quick and delicious spin on a classic breakfast omelette.
Ingredients
2

Large Grade A Eggs

4

Cherry Tomatoes

diced

2

tbsp

Red Onion

diced

1

Cooking Spray

1/4

cup

Cooked Chicken or Bacon

cooked

2

tbsp

Feta Cheese Crumbles

1/2

Hass Avocado

diced

1

slice

Pita Bread

optional

1

tsp

Olive Oil
Instructions
If you're adding the pita bread, preheat oven to 385 degrees.

If you're cooking chicken or bacon, cook that first and dice. Dice tomatoes and onion. Set Aside.

Place a saute pan on the stove top over medium-low heat. Whisk together two eggs in a mixing bowl. Spray pan with cooking spray and pour eggs into pan. There should be a thin circular layer in the pan.

Add chicken/bacon, tomato, onion, salt, pepper, and chipotle powder evenly around the eggs. keeping the heat at medium-low, cook until the eggs are 90% cooked through and remove from heat.

While the eggs cool, season pita bread with olive oil and pinch of salt and pepper. Wrap in foil or place on a baking sheet and place in the oven for 5 minutes. Once the timer goes off. Set aside.
Plating
Place warm pita bread on the bottom of your plate. Place open-faced omelette over the bread. Top with sliced avocado.
Notes
Note: Add 10 minutes to cooking time if you need to cook the chicken or bacon on the spot.