Who doesn't love potatoes? Whether it's breakfast potatoes, french fries or loaded skirt steak potatoes it's tough to go wrong. This dish gives a whole new meaning to gluten free comfort food.
One of the biggest frustrations I've heard from friends that are gluten free is a lack of comfort food. There are plenty of gluten free deserts out there that range from chocolate cake to cookies and candy. Every once in a while though, we all just need that meal that's fun, filling and delicious. How tough is it to be at a baseball game and see everyone around you with hot dogs and nachos and not be able to have it yourself? Well Low Key Cooking has the solution for you: healthy-ish gluten free loaded skirt steak potatoes.
I actually got the inspiration for this dish from the last baseball game I went to at Petco Park in San Diego. They have some loaded tri-tip nachos that are absolutely killer. The only downside to those nachos are that they're insanely unhealthy, they're $15 and it's guaranteed to leave you with a mess in your lap.
Instead of tortilla chips or french fries I used seasoned golden potatoes. I used a 1 lb. skirt steak cut from Ralph's because it was on sale for about $4.50 so I couldn't pass that up. Skirt steak is definitely recommended for this dish but really any good beef cut will do just fine. Now you have steak and potatoes which is fantastic on it's own so really we just need a few toppings and it's good to go. To add a little extra kick I throw in half of a white onion and a large garlic clove and it really made a big difference.
Finally it's all about the sauce. The sauce makes a dish look good when it's plated and it has a huge impact on the overall flavor of the dish. It's important not to overdue it when you're topping the potatoes with sauce because you don't want to drown them and overwhelm them. I used a combination of sour cream and chipotle ranch and it was perfect. If you're trying to keep it even healthier you can leave out the sour cream and go light on the chipotle ranch.
I'm sure you'll love my loaded skirt steak potatoes so like and share them after you've tried it!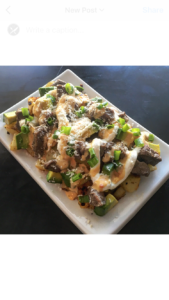 Loaded Skirt Steak Potatoes
2016-08-26 10:16:09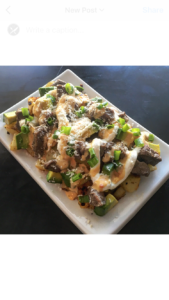 Serves 4
Gluten Free Loaded Skirt Steak Potatoes
Ingredients
1 lb. Skirt Steak or Your Preferred Steak Cut
1 lb. Golden Potatoes (cubed)
1/2 Avocado (cubed)
1/2 White Onion (diced)
1 Large Garlic Clove (minced)
4 tbsp Crumbled Cotija Cheese
2 Green Onions (chopped into rings)
4 tbsp Chipotle Ranch
3 tbsp Sour Cream
1 1/2 tsp Salt
1 1/2 tsp Black Pepper
1 1/2 tbsp Olive Oil
Instructions
Start by microwaving 6 cups of water for 2.5 minutes then pour the water into an oversize fry-pan on high heat. Dice your potatoes into cubes and add to the boiling water for 10 minutes stirring occasionally. Season with a pinch of salt.
While the potatoes are cooking, rub steak with 1/2 tbsp olive oil and season with 1/2 tsp salt and 1/2 tsp black pepper. Cut the steak into cubes about the same size as the potatoes and add to a fry pan over medium heat. Cook until medium rare.
While the steak and potatoes are cooking, dice the white onion and mince the garlic. Set aside.
The potatoes and steak should get done about the same time, remove both from heat. Drain the water from the potatoes. Add potatoes back into the large fry pan on high heat with 1 tbsp olive oil, onion, garlic, 1 tsp salt and 1 tsp black pepper. Cook for 3-4 minutes or until the potatoes start to brown.
Add steak to the potatoes and cook for another 2 minutes. The potatoes should be browned and have a slightly crunchy texture and the steak should be cooked to medium and warm.
After everything has finished cooking, add 1/4 of the mixture to each plate and top each plate with a small handful of the cubed avocado. Drizzle sour cream and chipotle ranch over the mixture. Crumble 1 tbsp cotija cheese over each plate and finally top with a small handful of the green onion.
Serve hot and enjoy the goodness!
Notes
I bought the squeezable sour cream but even if you have the regular tub of sour cream you can still make it look like the picture. Take a few spoonfuls of sour cream and put into a ziplock baggie. Cut a tiny corner off the bottom of the baggie. You can then squeeze the sour cream out into a thin line to make it look nice at home.
Low Key Cooking https://cookinglowkey.com/