This should come as a surprise to no one that's been following Low Key Cooking, but I used Balsamic Vinegar and baby Sweet Peppers in another dish. I've said it before and I'll say it again, baby Sweet Peppers are my favorite ingredient to cook with. They're easy to prepare and can be used in any number of different ways. They look awesome cut into rings or you can cut the stems off and use them like I do with these Balsamic Pepper & Goat Cheese Flatbreads.
Along with my love for baby sweet peppers, I also have an equal attachment to balsamic vinegar. The first time I ever used balsamic vinegar was with my Caprese chicken; needless to say I've been hooked ever since. Simplicity is what gourmet the lazy way is all about which is why I love balsamic vinegar. It's a simple ingredient but it has a very defined taste that shapes the entire dish. A marinade would definitely be the best way to go for this dish, however, to keep the recipe under 30 minutes I simply sautéed the peppers with balsamic in the pan. This still gives you the bold balsamic taste without taking the time for a marinade.
The other main ingredient in this dish is the goat cheese. It's a toss up between Gouda and Goat cheese when talking about favorites but I'd have to go with Goat cheese as the winner. It has a creamy and thick texture and gives you that comfort food vibe we all love. The Goat cheese spread is perfect on the sourdough flatbread to cool down the dish and keep the balsamic vinegar from overwhelming everything.
I used a Goat cheese log from ralph's that was on sale for $4.99. This most likely won't be the cost for a large goat cheese log in the store when you go shopping so I have a few options for you. First, you can go big and pay for the large goat cheese log and be happy as ever. The second option is to buy the small goat cheese log at Trader Joe's or Ralph's for $3 and limit how much you use on each flatbread. If you're only cooking for 2 like the recipe calls for then this will be more than enough goat cheese.
As always please like and share our post after you try the dish. Cheers!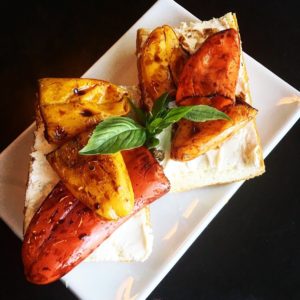 Balsamic Pepper and Goat Cheese Flatbreads
2016-08-29 10:58:25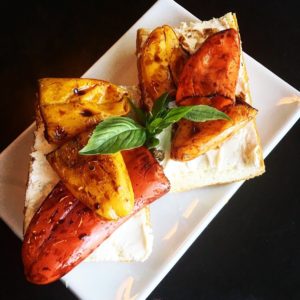 Serves 2
Ingredients
1 10 inch Sourdough Roll
8-12 Baby Sweet Peppers
4 tbsp Balsamic Vinegar
4oz Goat Cheese Log
Pinch of Garlic Pepper (or regular black pepper if that's all you have)
Instructions
Cut the stems off of all peppers. Add peppers to a small fry-pan over medium heat with 4 tbsp balsamic vinegar. Be sure to use a small fry-pan so the balsamic vinegar is covering the bottom of the entire pan. Fry 6-8 minutes or until the peppers have sufficiently softened and remove from heat.
Once you have the sweet peppers going in the fry pan, cut your sourdough roll in half long ways, and then again in half short ways. This should leave you with 4 pieces. Put in the toaster for 3-5 minutes or until the bread starts to turn a golden brown color.
Once the bread is toasted, spread a layer of goat cheese over each piece of bread. Top each piece with 2-3 peppers and serve immediately.
Notes
To make this gluten free, use your favorite gluten free bread instead of a sourdough roll.
Low Key Cooking https://cookinglowkey.com/