Brunch might be one of the most underrated activities out there. Whether you went out the night before and may be feeling "under the weather," or you're treating the family; brunch is always winner in my book.
Most people associate brunch with bloody mary's or mimosas, and rightly so. However, when I do brunch it's all about the food and my Turkey, Spinach and Avocado Breakfast competes with any brunch out there. Breakfast food is good all day everyday in my book so I thought it was about time I posted an easy gluten free recipe for you.
When I was thinking about what I was going to do for breakfast, there were a few must-haves on my list. The first is what I look for to start all of my dishes, protein. The obvious choice is eggs when you're thinking breakfast so I figured I could throw a poached egg on top of something. The night before I had made a stir-fry with some ground turkey and I had some left over so I went with that. Add a little spinach and avocado and just like that I have myself a dish.
Just like most of my dishes I kept this gluten free and very healthy as well as high in protein. The great thing about this dish is that it looks gourmet and fancy but really it only takes 15-20 minutes for you to make at home. Ground turkey cooks up easily in just a few minutes and other than that it's just cooking a couple eggs over easy. The other thing you can do with this dish is spice it up. If you like a little heat like I do you could add some cayenne pepper to the ground turkey to give it an extra kick. If you really like extra heat you can dice up your favorite jalepeno pepper and cook it up with the ground turkey.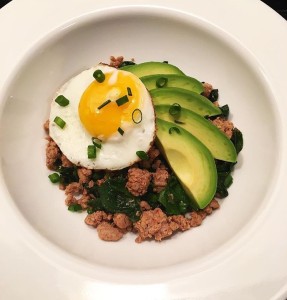 Turkey, Spinach and Avocado Breakfast
2016-03-27 17:31:13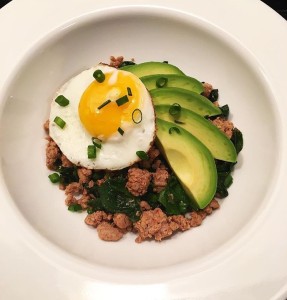 Serves 2
Ingredients
1/2 lb Ground Turkey
1 Garlic Clove
2 Eggs
2 Cups Baby Spinach
1/2 Tsp Salt & Pepper
1 Avocado
1 Green Onion
Instructions
Cook the ground turkey over medium heat in a frying pan until browned.
With the turkey is cooking, cook two eggs over easy in a separate pan.
Once the turkey is browned, add spinach and stir over medium heat for 2 minutes or until spinach has shrunk and cooked.
Cut your avocado into thin slices and cut your green onion into small rings.
Notes
For Plating, throw the ground turkey and spinach into a bowl, then add the egg and avocado over top as seen in the picture.
Low Key Cooking https://cookinglowkey.com/